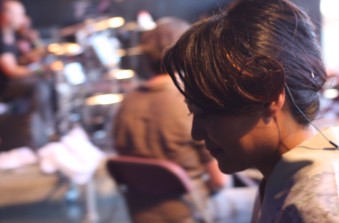 Keiko Kitamura was born in an area of Hiroshima prefecture known for producing high quality Japanese traditional instruments and instrumentalists.
Her early years were spent studying koto (Japanese zither) and shamisen (three-stringed Japanese lute) in Fukuyama under the tutelage of her aunt Kyoko Kitamura, an Ikuta School grand master of the famous Miyagi association, and achieved the status of Ikuta master herself in 2001.
Keiko has performed widely throughout Japan and around the world, including the Sydney Opera House, Ethias Arena Hasselt Belgium, London's Excel Motor Show, British Museum, UK Japanese Embassy, and a number of festivals including Glastonbury Festival, Vortex Jazz Club, Ronnie Scotts and St John's Hackney Church.
She has performed live in concert and studio (BBC 3) with Jah Wobble's Nippon Dub Ensemble, an Anglo-Japanese crossover project and has featured at charity concerts for the Tohoku earthquake and tsunami disaster.
Keiko has lived in the UK for over ten years and was a leading member of the Japanese Music Society based at SOAS (School of Oriental and African Studies), University of London. As part of her continuing relationship with SOAS, she has also taught shamisen at the European Shakuhachi Society Summer Schools.
She has also performed at the London Olympics in the BT River of Music Asia stage and EFG London Jazz Festival 2013, as one of the members of Arun Ghosh's Arkestra Makara featuring musicians from across South & South East Asia.
She was an award winner for her koto composition at Michio Miyagi Memorial Contest 2014 in Japan.